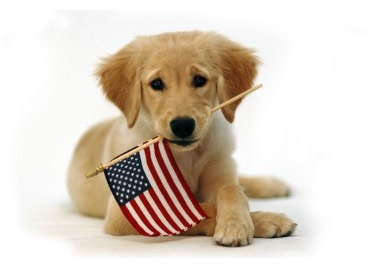 Your Northern Michigan Golden Retriever Breeder!
A little about us
Updated Dec 2016
We adopted our first Golden Retriever in 1994, our beloved Brittany, at the time we had very little knowledge of the breed, but soon fell in love.  She came from a "backyard breeder" although AKC registered we soon learned what that meant.  At the age of three, Brittany was plagued with many serious medical problems.  We lost her in 1998.  Because we were active duty Air Force, and moved around frequently, we decided we would wait until we were retired and settled before we would get another dog.
In 2002 we picked Helena, MT to start our civilian life. In 2008, our Abby became part of our family, but only after many hours of research looking for a good quality well-bred dog. Abby is our companion and will do anything that is asked of her.  She is super agile, very smart and beautiful. Abby's first litter was whelped in April of 2012. Abby had her last litter in the spring of 2015, we decided it was time for Abby to be Abby again. She produced many wonderful pups.  We would like to thank Doug and Jill Flament from Saturday Night Golden Retrievers for their help and advice along the way.  They were a great influence on us and our breeding program.
After spending nearly 14 wonderful years in MT., we have chosen once again to move across the country.  We are now settled in our new home in Northern Michigan in an area near Traverse City Michigan.
We decided to keep a pup (Tana) from Abby's March 2013 litter. She has already proven to be a top performer. In just 8 short months she has earned her AKC STAR as well as her AKC CGC (Canine Good Citizen).  She is developing into an eager hunter with lots of drive and focus.  She has proven herself on Upland Game birds as well as Pheasants.  Tana continues to exceed our expectations. She has earned her AKC Junior Hunter title as well as 2 passes towards her Senior Hunter. She has also earned her WCX title. After arriving in Michigan, Tana has earned her AKC Senior Hunter title as well as her UKC Started Hunter Title and 2 passes towards her UKC Seasoned Hunter title.  In the summer of 2015 Tana had her first litter, in which we kept one of the pups, Snowy Ridge Montana's Amazing Grace.
Grace has been following right in her mother's footsteps.  After settling into our new home in Northern Michigan we began training Grace.  She is a quick learner and has tons of drive.  During the summer of 2016 she earned her AKC Junior Hunter title along with her UKC Started Hunter title.
We are proud members of the Golden Retriever Club of America. Since we have begun breeding, our focus will always be on the quality, not quantity. We hope that anyone who adopts one of our puppies from us will keep us posted as their pup grows and becomes a member of their family, by email and/or pictures, or phone anytime.  If you have any questions, please feel free to call us.
Golden Retrievers
Friendly, Reliable and Trustworthy.
They Are Your Friends,
Your Partners,
Your Defenders,
Your Dogs.
You Are Their Life,
Their Love,
Their Leader.
They Will Be Yours
Faithful and True,
To The Last Beat Of Their Hearts.
We Owe It To Them
To Be Worthy Of Such Devotion.

Dogs were meant to be respected as man's best friend and not stockpiled in a cage to push out puppies for profit.
You are buying a companion that will live in your home and provide unconditional love for the next 12-15 years. So, do your homework and choose wisely.
We do not own dogs to "run a business." They are members of our family. We share our lives with them and love them. We give our dogs the utmost care socially, medically & nutritionally and we reap the many rewards and joys of having the unconditional love only a beloved dog can provide.